Biography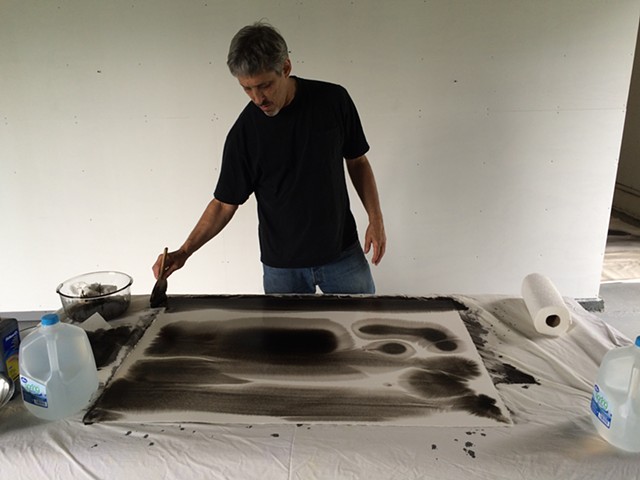 Eric Wolf (b. 1960, American) is a painter and designer based in New York's Hudson Valley. He is a graduate of the Rhode Island School of Design, BFA 1982 in Photography, and the City College of New York, CUNY, MFA in Painting, 1990, and attended the Skowhegan School of Painting and Sculpture, 1989. Wolf has had residencies at Yaddo, The MacDowell Colony, Giverny, the Blue Mountain Center and Art Omi.
Wolf's recent group showings include Heavy at Private Public Gallery, Shimmer at Berkshire Botanical Garden, You Again at Miles McEnery Gallery, Stuart Farmery, Zach Neven, Eric Wolf at Art Austerlitz, Land of Immortals at Tanja Grunert, Wintergarden at Gilded Owl, Magic Garden at LABspace, and upcoming shows at Art Austerlitz, and you again, at Miles McEnery Gallery.
Solo exhibitions include Pamela Salisbury Gallery, Gregory Lind Gallery, Oresman Gallery at Smith College, The Williston School, Jeff Bailey Gallery, Fredericks-Freiser Gallery, Jessica Fredericks Gallery, and Kristina Wasserman Gallery.
Wolf's work has been reviewed in Visual Art Source by DeWitt Chang, The New York Times by Roberta Smith, Holland Cotter and Ken Johnson, The New Yorker by Alexi Worth and David Rimanelli, Art News by Gregory Volk, Art in America by Vincent Katz, Artforum by Julie Caniglia, Frieze, New York Press, among others.
Wolf recently organized the group exhibition, Shaker Inspired at Joyce Goldstein Gallery. He was interviewed on the Gorky's Granddaughter website archive, July, 2016 speaking about his studio practice, and did a second interview speaking about his design and art collection for the Endeavor Foundation, May 2020. He was further interviewed in Two Coats of Paint, May 26, where he went into more detail about this project. Wolf also spoke about his career as a landscape painter and his life upstate in an interview in Rural Intelligence, October 2020.
Group exhibitions include Platform Project Space, LABspace, Spazio 22, Geoffrey Young Gallery, Jeff Bailey Gallery, Kai Matsumiya Gallery, The Columbus Museum of Art, Musee Marmatton Monet, The Drawing Center, Weatherspoon Art Museum, Barbara Gladstone Gallery, Paul Morris Gallery, Moti Hasson Gallery, Caren Golden Fine Art, Danese Gallery, and Salon 94, among others.